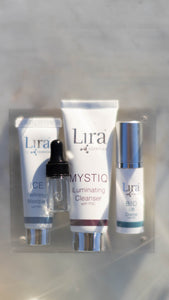 Corrective Treatment- It's everything a weekly at-home treatment should be. Smoothing, detoxifying, nourishing, and brightening! 
Experience the luxurious hydrating illuminating cleanser to gently cleanse to begin this at-home treatment. 
The refining masks deeply detoxifying and refining abilities treat your skin and perfectly prep it for the rest of the treatment. 
The anti-aging peel pad is the gold standard in at-home treatments. 7 different exfoliants, retinol, brighteners and more. Basically the perfect skin cocktail to smooth, brighten and tighten. You will wake up with glowing skin!
Our hydra infusion serum will re-hydrate and plump your skin, while the lift creme nourishes with anti-aging peptides and minerals.